Whether celebrating the festive chill at your winter holiday party or keeping it cool at your summer wedding,OKAMOTO STUDIO works with ice year round. We design ice for all kinds of events—fashion shows, film premieres, product launches, weddings and anniversaries, to name a few—we know how to make ice work for you. From floor-up bars to interactive luges, from family portraits to the plating of ceviche, we offer a wide range of designs that consider both the functional and aesthetic benefits of ice.
We believe the creative process is an art form in and of itself. Our live, on-site carvings are sure to captivate any crowd. Whether at a product launch or an outdoor festival, OKAMOTO STUDIO will bring the action from our studio to you. We'll let you in on the secrets of our craft and customize the experience for your event. We have the know-how to make the spectacle safe, secure, and exciting. To see us in action, click here!
To all the celebrated bartenders and mixologists: Isn't it about time for an ice as carefully crafted as your spirits? Our "dead-clear" ice is meticulously filtered and tightly frozen to prevent air bubbles from forming and creating a cloudy center. Our specialty ice melts at a much slower rate, complementing your cocktails without diluting them. Check out our portfolio to see our dead-clear ice for bars or see our ice put to use on Drink Masters! OKAMOTO STUDIO will work with you to design an ice program that works with your glassware and facility needs. We create big cubes, impressive slabs, immaculate spheres, and fun shot glasses, just to name a few. Let our ice emphasize the precision of your craft.
Come play with us. We have the facility to fulfill creative urges, feed curious minds, and support busy hands. Our studio is a true workman's space; sleek and gritty enough for your new product launch, tricky photo shoot, or industrial-strength party. OKAMOTO STUDIO is a fully functional "wet" studio conveniently situated just one block from a subway station, a few stops from Midtown, in Queens. With over 2000 square feet of space and all the ice you could ever want to play with, you'll be sure to discover the possibilities.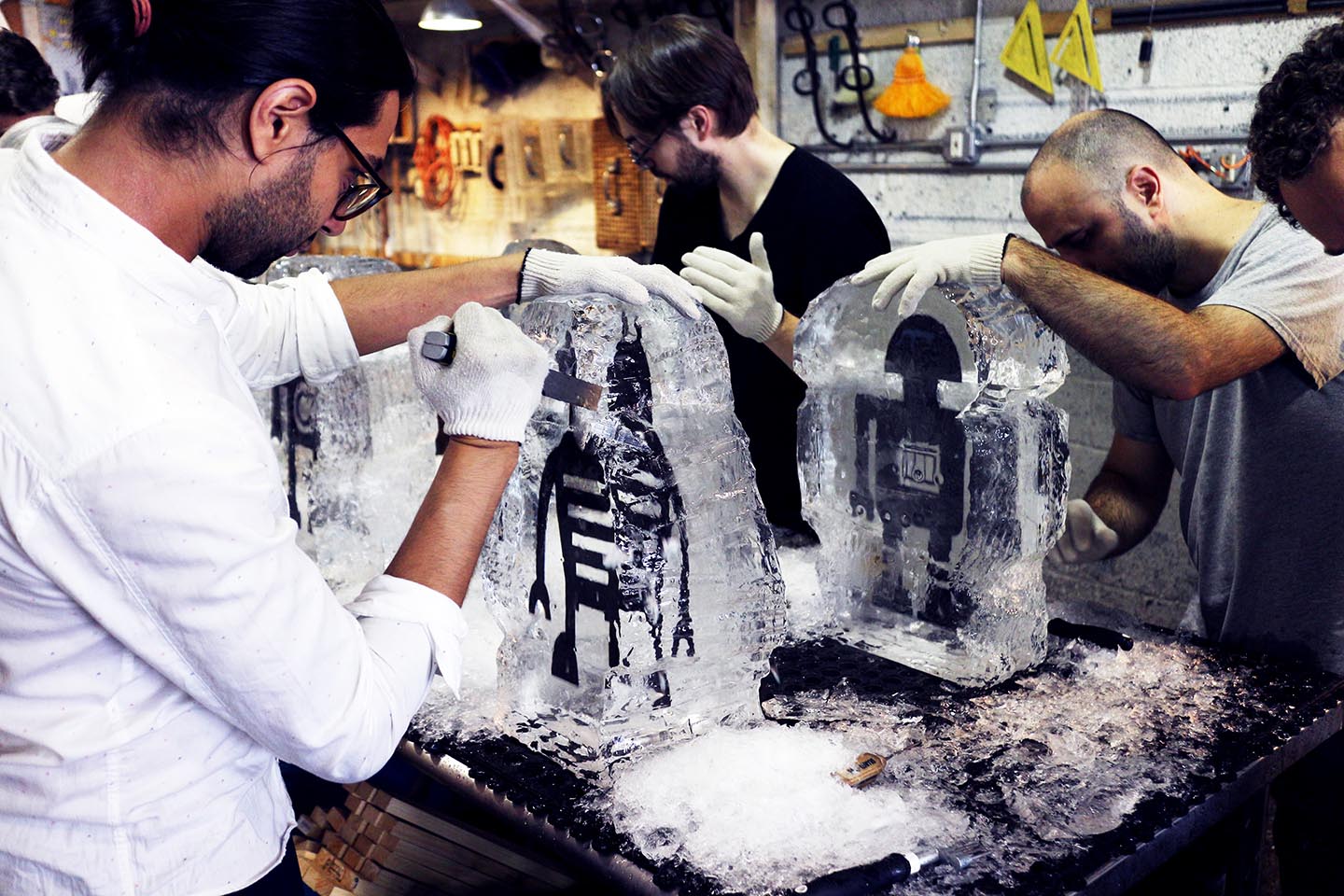 Working with ice requires teamwork. Camaraderie and cooperation are essential in harnessing our favorite temperamental medium. OKAMOTO STUDIO invites you and your team to come carve with us. We provide intimate, hands-on instruction and guidance, and lead team-building activities designed to bring out the best in everyone. Try playing ice Jenga or sipping a cool drink from your freshly carved ice mug. Your team will be thrilled to take part in our fun and innovative exercises.